Portugal visto por escritores estrangeiros
Flânerie in Lisbon
by Sarah Lyn Rogers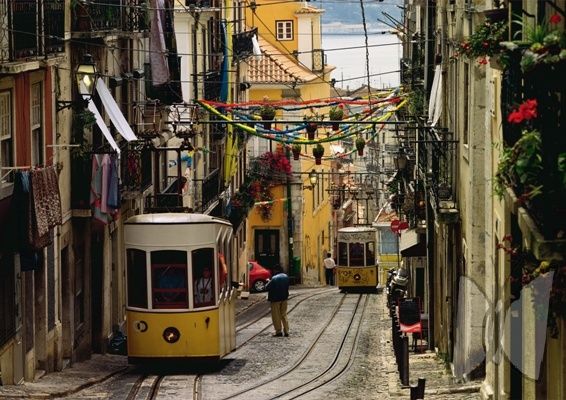 One thing that's striking about Lisbon is the way the city memorializes its artists.
Among statues of saints, kings, and explorers, you'll find Luís de Camões – who is sometimes called "the Portuguese Shakespeare" – and not one but two statues of modern literary darling Fernando Pessoa.
Pessoa is perhaps most famous for writing under various heteronyms - alter-egos -, who wrote in different styles, had different biographies, and even critiqued each other's work in the newspapers. It's an interesting thought experiment in today's world, where personality and social media presence can make or break a book deal: What could I permit myself to write if I were someone else?
My Portugal experience was as much about permission as it was about literature. I canceled evening plans when lunch ran longer than three hours, I observed siesta when my body and brain requested a midday nap, and I spent a lot of time on my balcony, suspended above the party streets of Bairro Alto.
From my balcony, I could look across the way to the pigeons roosting on an abandoned building, or look down to people in the streets below, ambling to and from restaurants with open bottles of beer and borrowed wine glasses. I read for hours and wrote copiously in my notebook. It felt like the most natural thing I should be doing, channeling the energy around me through the tip of my pen.
Pessoa considered himself a flâneur, someone who strolls about the streets, observing his surroundings. Flânerie is the serious art of leisurely spectatorship. Living in the Bay Area, I sometimes feel as though all of my leisure time should be filled with work or activities. This change of pace, framed as a noble and artistic pursuit, was eye?opening for me, and one of the most valuable takeaways from my visit.
On one leisurely afternoon, I made a bookseller's day when he rang up my stack and said, with pleasure and surprise, "You are taking José Luís Peixoto home with you?"
I did. I also took home with me my sense of Portugal as a beautiful, inspiring, lively and relaxing place – a haven for the writer whose senses are starved. I am eager to return and walk Pessoa's cobble again, picking up sensory pieces of my surroundings the way he did, on the edge of his seat at a café not so long ago.


by Sarah Lyn Rogers


---
Sarah Lyn Rogers is a writer from the San Francisco Bay Area and the Fiction Editor for The Rumpus. Her work has appeared in Caesura, Reed Magazine, Potluck Mag, and two anthologies