Portugal visto por escritores estrangeiros
Heed Crosswalks
by Ann-Marie Fitzsimmons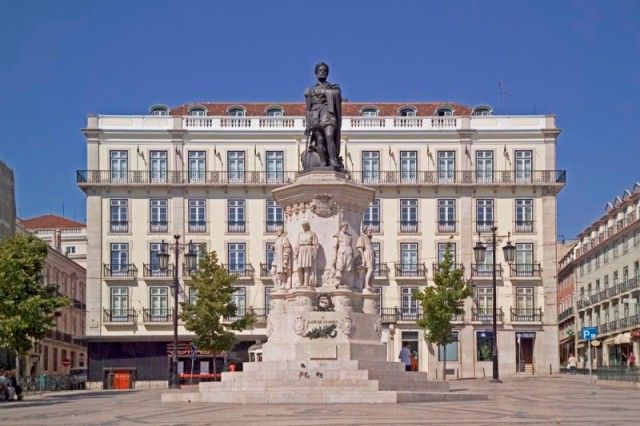 Across from the Camoes statue, Bernie and Doug chatted while we waited to cross into the Square. While listening to them discuss Disquiet and Alexander Chee, I honestly wondered how many pedestrians died daily on these streets.
Oh, Lisboa.
Skinny streets.
Scant sidewalks.
Tiny, speeding, honking cars.
People and languages, so abundant.
Just a day earlier, I had witnessed a tiny, eightyish year-old woman almost mown over in the middle of a street near my apartment in Bica. She merely smacked the hood of the van, shook a crooked granny finger at the driver and wobbled on across the street. Without a trace of guilt evident, the driver flicked the ash of his smoke and hurried away down the hill.
Lost in thought on Lisbon's at-risk pedestrians, I trailed Bernie and Doug, assuming it was safe to cross once the light flashed green. I walked, oblivious, to the left of the crosswalk. A great whoosh from a sneaky, street-level subway vent exploded beneath my sundress. Said sundress shot past my head then settled on my right shoulder. Despite my own hysterical laughter and flapping hands, I managed to cover my lacy panties before Bernie and Doug were ever the wiser. I could only imagine the colloquy of those behind me who had caught sight of my dappled bottom.
I couldn't have understood them even if I'd wanted.
The moral of my story: If you are lucky enough to be in Lisbon, heed her crosswalks for many reasons.


by Ann-Marie Fitzsimmons


---
[Ann-Marie Fitzsimmons] Mother of four wild sons, one spunky daughter. Librarian, lover of books. Reclaimed wife of Andy.