Portugal visto por escritores estrangeiros
Impressions of Portugal
by Marianne Goldsmith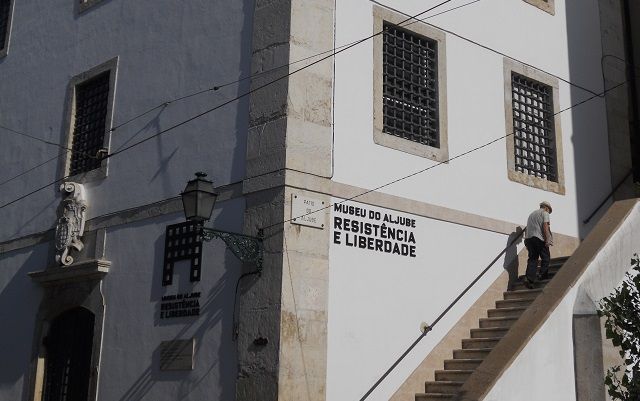 Lisbon in June at dusk. From an open window three floors up, a white-haired gentleman in shirtsleeves leans on the sill, elbows clasped, watching us, and other tourists winding around the narrow, cobbled streets in the fading blue light, some climbing uphill to the Castle of St George, others on their way back.
He's there again next evening, quietly observing. I try to catch his eye, but I know that's not going to work and it doesn't. Back home, I would probably wave to him and ask how long he's been in his apartment, what he thinks of the neighborhood changing. I don't speak his language. Across the street from our place, and practically on every corner, scaffolding surrounds peeling tan or rose stucco facades, and demolition squads hack away at interiors. I wonder if the quarter is about to turn over and gentrify into a pricey hotel paradise with "old world charm."
Lisbon is Portugal in June, a city that exhibits its elegant, tiled plazas and heroic fountains and monuments in the sun. Where the impulse to play catch up with history propels the 2008 creation of a memorial to Jews who perished during the 16th century Inquisition. I found the eloquent poetry of Sophia de Mello Breyner Andresen on the walls of the newly inaugurated Aljube museum, commemorating the resistance and freedom of 1974 that ended the long Salazar dictatorship. The words were untranslated, but I could decipher her message. In the face of such a repressive regime, I am grateful for writers compelled to illuminate hidden corners, who didn't back down. Sophia inspires me. I am searching for more translations of her work. And roughing out a path to explore the voices of Portuguese women writing right now.
In truth, I never longed for Portugal. Other countries drew me closer at other seasons of my life. Here, I ended up infected with, intrigued by perennial contradictions, winding streets and open windows.
"While the wide sea stretches westward
Lisbon swaying like a sailing ship
Lisbon cruelly built next to its own absence
I say the city's name
I say it to see"

- Sophia de Mello Breyner Andresen, from "Lisbon," 1977. (trans. by Richard Zenith)


by Marianne Goldsmith
---
Marianne Goldsmith is the pen name of Marianne Smith, who lives and works in Oakland CA, as an editor, writing tutor and communications consultant, and writes fiction and creative nonfiction. She has an M.A. from the San Francisco State University Creative Writing Program and attended Disquiet 2015 in Lisbon, Portugal. Credits include Temescal Community Memoir Project anthology, Poetry Flash, SF Review of Books, SF Bay Guardian and Times They were A-Changing: Women Remember the 60s and 70s.