Exposições
A certain instance of "verrition"
Exhibiting works from Manuela Sedmach, Marcelo Moscheta, Paulo Arraiano and Pedro Vaz.
Curated by Camila Maissune.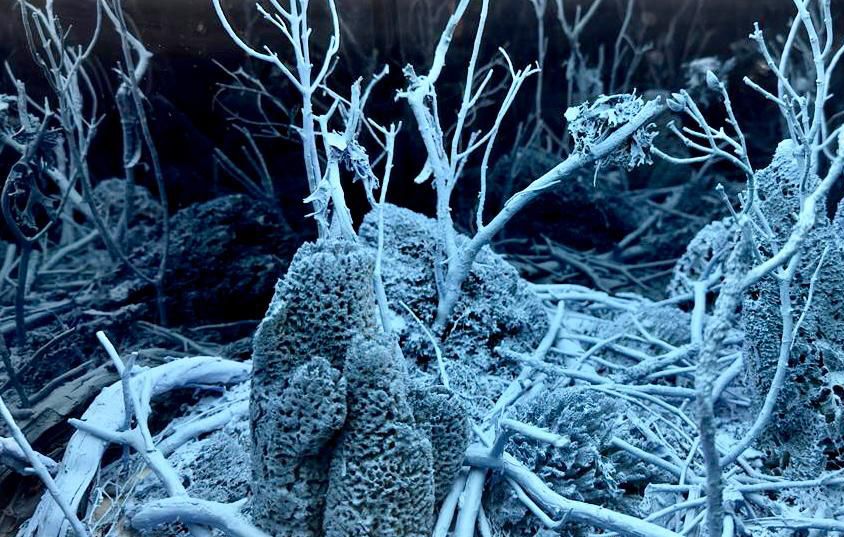 19 Mai a 21 Out 2023
Fundação Leal Rios
Rua Centro Cultural, 17 - B 1700-106 Lisboa (Alvalade)
Although Aimé Césaire's rich botanical lexis hasn't been fully considered, some have articulated his poems with a notion of "vegetal writing," a critical mode of composition and reading that, through the aesthetic lens of botanical and aquatic imagery, places the self in a complex world of transformation and human possibility.
In proclaiming "newness," Césaire calls for establishing fresh imaginaries and, in so doing, annunciates a distinct and enigmatic poetic neologism, "verrition," to articulate a fiery exhortation to move beyond established linguistic and artistic conventions, sweeping landscape from the inscriptions of colonial and anthropocentric power. From the Latin verb verr?, verrere, meaning "to sweep or scrape away," Césaire translates "verrition" to "scraping a surface, or to scan," a whirling movement of sweeping stillness, thus punctuating an environmental imaginary that fuses movement and erasure while combining geography and history.
This exhibition functions as an artistic instance of verrition, reimagining traditional inscriptions and artistic lexicons regarding nature and landscape. Through the works of Manuela Sedmach, Marcelo Moscheta, Paulo Arraiano/Co Two, and Pedro Vaz, landscape is understood as a critical mode of "writing," as the artists radically transmute familiar natural elements into distinctly surreal
environments.
Each work inaugurates its own myth, a cosmogonic matrix, a place where something is bred or produced. As we grow increasingly minuscule within the ever-expanding and complex environment created within the exhibition space, we are forced towards a romantic movement of contemplation that is not innocent but grounded on the understanding of the particularities of history and geography enacted by each work.
(1) Aimé Césaire. "Cahier d'un retour au pays natal", 1939
(1) Sebastian Charles Galbo. "Lands that spit and spew: Aimé Césaire's vegetal poetry," The Journal of Commonwealth Literature, 2017
(2) Eshleman C, Smith A. "Aimé Césaire: The Collected Poetry," California University Press, 1983